Used Nordictrack 1750 treadmill-Sale Price $7500.00 Certified Professional Maintenance done on treadmill and comes with a 30 Day parts & labor warranty. Sold AS IS 2 treadmills available , both treadmills go into a sleep mode and need to be reset with on/off switch after being left on for a length of time.
The NordicTrack Commercial 1750 Treadmill was designed with the serious runner in mind. This NordicTrack fitness device has a wide range of features to help ensure you get the most out of your fitness routine. The unit is ext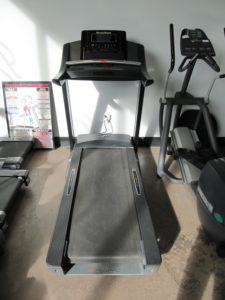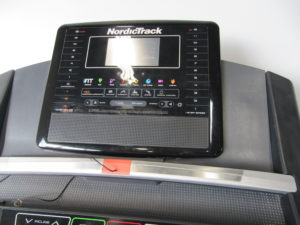 remely quiet, but also very powerful, allowing you to run or jog without disturbing anyone. It also comes with a wide variety of options and is capable of connecting to the Internet, opening up a world of possibilities for tracking your stats and creating new exercise programs. This unit is designed for commercial usage, but it is also useful for those who do a lot of running at home and need a device that can keep up with their demand. The NordicTrack treadmill has a space-saving design that allows you to fold it up when not in use, which is great for those with limited home gym space.The NordicTrack Commercial 1750 Treadmill has many advanced features that will provide you with a fun and satisfying workout. It comes with a web-enabled touch screen that allows you to connect to your home Wi-Fi for entertainment. It also has a tablet holder at the top of the unit conveniently located where you can easily watch videos or listen to music from your device. It is compatible with iFit, allowing you to get the most benefit from your workout. It automatically keeps up with your performance, letting you know when you're making progress. Plus, you can use Google Maps to vary the appearance of your virtual running location.This treadmill from NordicTrack is just right for anyone looking to improve their health through regular cardio workouts. It comes equipped with a powerful 3.8 CHP motor that can withstand heavy everyday usage. It has a generous, quality running belt of 22 inches by 60 inches, making it easier and safer to run at high speeds. The machine has 38 built-in apps on the console that were designed by a trainer for use with this particular machine. Beginners can get help with learning the healthy way to benefit from using a NordicTrack treadmill with some of the various low-intensity workouts. Experienced runners also have plenty of challenging programs to choose from so as not to get bored with their standard exercise routine. It has a speed variance from 0 through 12 MPH and can be altered with the simple touch of a button. The incline can also be adjusted, and it is capable of a decline of -3% to simulate downhill jogging. For uphill joggers, the incline can be adjusted up to 15%.Another great feature of the NordicTrack commercial treadmill is the advanced cushioning for safety and comfort. This provides impact absorption and can significantly reduce the joint pain from the impact of running. This feature can be turned off or on, depending on personal preference. When turned off, the deck will simulate a road surface, which is a great feature for training for a road race. The NordciTrack machine also gives you the option to continuously monitor your heart rate to maintain a level of safety and ensure that it's at the optimal fitness level.