Used Landice 8700 Treadmill – $400.00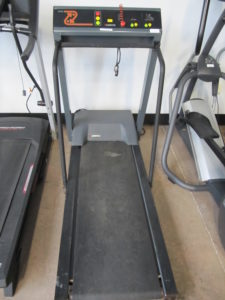 If you are a serious treadmill user or runner, you've probably heard of Landice. This 100% made in the USA treadmill is the best treadmill made. Whether you are a serious runner, or just like some exercise, this may be the last treadmill that you will ever buy. Don't take my word for it, see the many review about Landice treadmills online!
You can pitch out that rusting, plastic treadmill, with the small rollers, underpowered motor, and small motor control board that keep burning out. This Landice is made from aircraft quality 6063-T6 aluminum (cannot rust) and no plastic.
The rollers are large 2 ½", 14 pound institutional grade steel rollers. If you pick up a Landice roller, you will notice it weighs significantly more than others. In fact they weigh more than many treadmill flywheels. Because of their weight, these rollers actually act as two extra flywheels on the treadmill, further contributing to smooth operation and longer treadmill life.
The motor control board, or lower control board is a 30 amp capacity board. Most others are only 12-16 amps, which is why they burn out when the amp draw gets too high from the lack of maintenance and/or wear. Believe me, I know since I replace them with new ones virtually weekly.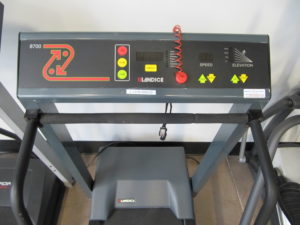 Most treadmill manufacturers use a ¾", one-sided deck with a single phenolic coating, thinly laminated deck, or sometimes just painted deck. Landice has a 1″ deck that will support a 500 lb user! Landice's five process deck system is applied to both sides of our deck. Consisting of 2 phenolic layers, wax impregnation, TFE, and SlipCoating, this process provides for a life of over 3000 hours per side. This equates to a life of over 20 years in a residential setting.
The incline handles 1000 lbs of thrust that will elevate even a 500 lb. runner in full run, smoothly, and without hesitation.