Octane Q37x Elliptical for only $2,599.00  —-  Octane Q37xi Elliptical – $3,099.00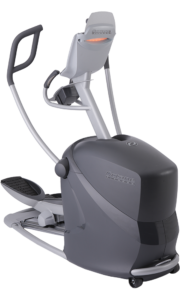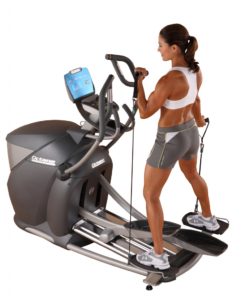 Large display screen
1-color SmartLight feedback center
Simultaneously displays essential workout data
2 placement options for a tablet – read and surf
8 workout programs
Digital contact heart rate sensor
Digital contact heart rate sensor
Premium, high polished display screen
SmartLink, Bluetooth® connectivity
72 workout programs with SmartLink
Multi-color SmartLight feedback center
Simultaneously displays essential workout data
3 placement options for a tablet – watch, read, surf
Wireless heart rate with a FREE Polar® heart rate strap
Customized Workout Boosters
Pair of resistance bands
Advanced Console Technology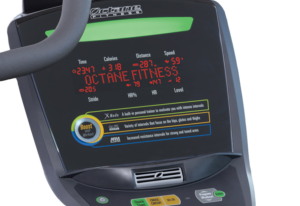 The console is simple to navigate, whether you're choosing Quick Start or an advanced workout – or whether you're connecting to SmartLink. You choose the level of technology you want to fuel your workout.
The Q37xi console accommodates your iPad with three placement options – Watch, Read and Surf. The large display screen simultaneously displays all your workout data, and only Octane offers SmartLight technology.
SmartLight signals how hard you're exercising, if you're in your target heart rate zone and when to prepare for the next interval in a Workout Booster or CROSS CiRCUIT. Now that's smarter training.
Real Running Motion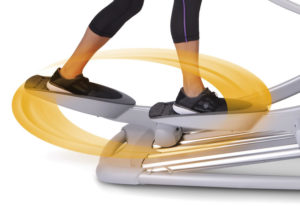 Designed based on precise human biomechanics, Octane elliptical machines deliver supremely comfortable natural movement and flow, both forward and backward, without stress on the joints, which is ideal for all levels of exercisers.
The Q37 features close pedal spacing (only 1.8″), so your body is properly aligned from head to toe, thereby minimizing pressure on the lower back. Because the body feels so good during workouts, you are more likely to stay on longer and keep coming back.
Upper-Body Ergonomics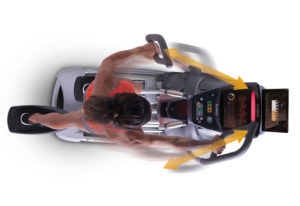 The patented, one-of-the-kind Converging Path and MultiGrip handlebars better engage the upper body and fit every exerciser comfortably.
With MultiGrip handlebars, you can target different arm, chest and back muscles simply by changing your grip. The MultiGrip handlebars also feature contact heart rate sensors and fingertip controls to easily adjust the speed and resistance. And Converging Path handlebars follow the natural path of the arms when walking or running.
Space-Efficient Design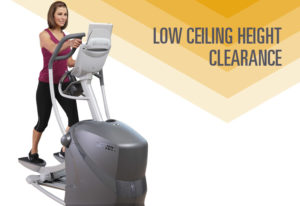 Significantly shorter than other premium elliptical machines or treadmills, the Q37 fits virtually anywhere at home. With its low step-up height and rear access, it's simple for everyone to get on and off safely.
Ceiling height clearance is only 8" higher than the tallest user, so it can easily be placed in areas with low ceilings.
Durability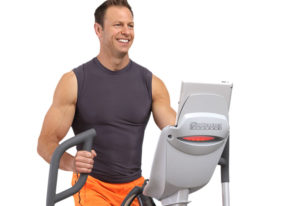 Octane Fitness delivers premium, ultra-durable ellipticals that are built to deliver long-lasting, superior performance. Home elliptical machines are subject to the same rigorous testing and uncompromising standards that Octane is known for in order to produce high-quality equipment that offers reliable operation and ease of ownership.
Plus, we stand behind our products with a five-year warranty on parts and one-year warranty on labor.
What is SmartLink?   
SmartLink is a free app from Octane Fitness that helps link your fitness goals to real results! SmartLink wirelessly connects to and controls your Octane machine from your mobile device. You can access a ton of programs that make workouts more efficient, effective and motivating!
Take advantage of customized 30-, 60- or 90-day goal-based programs that coach, motivate and drive results; workout tracking; live videos of CROSS CiRCUIT exercises and Workout Boosters and a ton of extras that help you get fit and stay fit. Plus, with easy app updates, you'll benefit from even more exercises and workouts over the years!
Smarter Workouts
SmartLink lets you pick your exercise goals – Lose Weight, Feel Better, Get Stronger and improve Athletic Performance – and develops individual 30-, 60-, or 90-day customized programs as your virtual personal trainer and motivating coach that keeps you working toward your goal.
Each time you log in, the app delivers your personalized workout regimen, duration and intensity level designed with input from fitness professionals, athletic coaches and physical therapists to stimulate progress and performance. SmartLink even re-calibrates mid-plan if necessary to ensure that you are on track.
CROSS CiRCUIT Live!
With more than 225 exercises and 35 workout plans, CROSS CiRCUIT with SmartLink significantly broadens options for optimal conditioning.
You can select the muscle groups that you want to target and the tools you want to use, and the app delivers an ideal regimen. With instruction and motivation from the workout videos, all you have to do is keep going.
Plus, workouts are added frequently – all you need to do is update the SmartLink app to access a multitude of new options that enhance your video collection.
Workout Boosters
Octane's exclusvie Workout Boosters, including X-Mode, GluteKicker and ArmBlaster, energize exercise with periodic intervals that deliver the ultimate in cross training and help make workouts more effective and efficient. You follow prompts such as squat, lean back, pedal fast and more to blast the entire body.
With SmartLink, these Boosters take on a whole new level of excitement with valuable video demonstrations, tips and coaching. This virtual personal trainer pushes you to perform and adds variety and guidance to keep you progressing.
Workout Tracking
SmartLink makes it easy to see and share your progress, as it automatically stores your workouts and preferences and tracks your sweat session details – all in one convenient app!
You can monitor calories burned, time, distance, speed, heart rate and more for today's workout, the past 30 days or since you began using SmartLink – for a quick, comprehensive view of your efforts.
Plus, share your success and stay on track with social media links, available directly through SmartLink.