Passport Media Player with Virtual Active $200.00.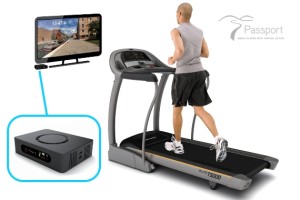 We sell them to you for $150.00 with the purchase of any Passport compatible equipment (Select Horizon and Vision treadmills, bikes, ellipticals).  You can also use it with older equipment for a more visual and pleasing exercise experience but it wont be synced to your equipment, and it will still cost you the full $200.00. 🙂
Passport Media Player with Virtual Active transforms a normal indoor workout into a dynamic outdoor adventure. Featuring stunning HD videos from some of the most beautiful destinations around the world, users choose when and where they want to exercise. Explore the scenic diversity of Northern Italy or follow the River Aar out of the mountains while exercising near the Swiss Alps. With a growing number of guided workout locations available, users are sure to remain motivated, entertained and healthy.

The Passport Media Player is used to deliver this content to users that don't have Virtual Active integrated into their cardio equipment. Users simply connect the Passport Media Player to their home television, insert the included USB and their cardio equipment connects wirelessly to the Media Player. The same stunning HD footage from places like Piazza San Marco in Venice or the cliffs of the Grand Canyon are displayed on their home television, perfectly synced with the users speed and elevation.