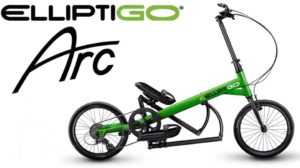 Experience the fun and comfort of elliptical cycling on the ElliptiGO Arc, our newest elliptical bike. The Arc's sleek aluminum frame is what enables it to be our lightest and most affordable bike. With eight gears and a compact elliptical stride, the Arc not only delivers a fantastic low-impact workout experience, it also gives you the ability to cruise comfortably, sprint off the line quickly, and climb steep hills. Adjustable foot positioning keeps your feet comfortable without being locked in, and the telescoping steering column makes it quick and easy to adjust the fit for riders of all sizes. The steering column is also removable, making the Arc easy to transport. Take your fitness and fun outdoors with the ElliptiGO Arc!
3spd $999.00, 8spd $1299.00, 24spd $1499.00.
COMPACT STRIDE MOTION
At nearly 14 inches long and adjustable up to 12 inches in height, the compact stride of the Arc provides a fast and effective leg workout and familiar cyclical feel.
9.4"-11.8" ADJUSTABLE STRIDE HEIGHT
By sliding the foot platform forward or backward, you can easily fine-tune the height of your pedaling stride to get the optimal riding experience.
PIVOTING FOOT PLATFORM
Each platform pivots independently with the angle of your foot to provide comfort and versatility for different riding styles.
8-SPEED DERAILLEUR SYSTEM
The smooth-shifting cog and chainring provide a large range of gears, allowing you to conquer steep hills and sprint at speeds of 25mph+.